Marina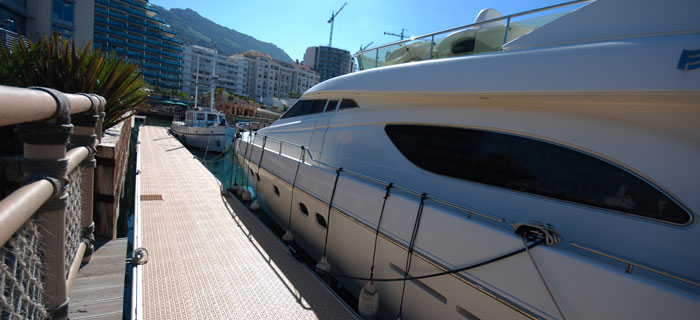 Gibraltar's Ocean Village is fast-gathering a reputation for being the rising star in the superyacht arena and is now competing with the most established marinas across the Mediterranean.
Located on the west side of Gibraltar, Ocean Village is the most sheltered marina in the region with close-up views of Africa some 14km across the Straits. As the 'gateway to the Mediterranean', it provides a base for sailing across the Atlantic or exploring the marinas and beaches which populate the North African, Spanish and Portuguese coastlines.
Aside from geography, the Rock itself has obvious appeal to yacht owners. Gibraltar has Cat 1 Red Ensign Group status, EU membership and is the most important ship refuelling point in the Mediterranean thanks to cut-price fuel. It also has a favourable system of taxation (including no VAT), a no surprises legal system based on the UK and pound sterling as its currency.
Finally, being a peninsula connected to mainland Spain, Gibraltar has miles of golden beaches, over 20 golf courses within a 20 minute drive and the majestic cities of Andalucia on its doorstep. The sun also shines more than 300 days a year – little wonder people are choosing Ocean Village over-and-above marinas in Spain.